What are the odds of finding someone with your name on the Internet? Pretty good, right? But with my family name? And how about also with a father with same name as your father's. Enter Mathew (with one T) Burpee and family in Ottawa. We will all meet one day. A nice surprise.
More on the Internet: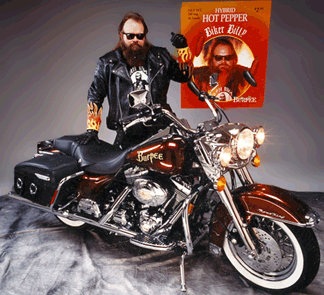 "World Famous Biker/Chef "Biker Billy" Stands in front of his custom painted bike. Paint by Peter Maiier / Lettering / Gold Leaf by Cos.." Burpee decal on gas tank. (Thanks Jane) More Burpee finds: Burpee Stream, NB, Burpee Museum, Burpee Ball Game, Burpee Seeds & Plants, Burpee Name Origins, and Ultimate Burpees Exercise (animation).